Last month, I discussed the List of Takeaways for I/DD Providers from the 2019 #IDDSummit. These takeaways will drive provider strategy over the long-term.  I expanded on this summary with an article titled The I/DD Provider Model Must Shift – Why Aren't You?
Not only are providers seeing operational and financial changes at an organizational level, but they are also seeing changes on a macro-level: the way states and federal governments are paying, managing, and promoting service delivery through managed care models.
Managed care for the I/DD population is happening and is growing across the country.  It is critical to work with managed care organizations (MCOs) to develop programs, best practices, and outcomes that provide value.
Why Move The I/DD Population to Managed Care?
According to the Centers for Medicaid and Medicare Services (CMS), 2018 health care spending reached $3.65 trillion[1] which is greater than the gross domestic product (GDP) of both Spain and Canada. Combined with costs of long-term supports and services (LTSS), the US will be spending more than a fifth of its GDP on health and supportive services.
In 2018, Medicare and Medicaid paid for more than half of all medical care.  Approximately one-third of Medicaid/Medicare expenditures goes to support people with I/DD[2].  Not only do expenditures for this population represent a large portion of spending, but they also have increased at a compound annual growth rate of 5% for the last decade.[3]
While these expenditures represent a large portion of total spending, less than 3% of the population have been diagnosed with I/DD[4]. Due to the long-term nature of care for this population, expenditures of this magnitude are not sustainable for state budgets and present a challenge for management.
Purpose & Outcomes of Managed Care
Much of the country has moved to managed care for primary health care and behavioral health (BH) (although some states still carve-out BH). As of July 2018, all states except three – Alaska, Connecticut, and Wyoming – had some form of managed care in place[5].
In a recent study by Health Management Associates (HMA), states reported that people with disabilities and the elderly were least likely to be covered through managed care contracts.[6]  For MCO states that have enrollment of populations with special needs (including those with I/DD), only 10 states made enrollment mandatory, while over 23 states reported variability or exclusion from managed care enrollment (Exhibit 4).
Currently, managed care is slowly taking on the challenge of integrating and creating programs for I/DD services. The I/DD system has been plagued with unsustainable costs, inefficiencies and inconsistencies.  Current fee-for-service models do not encourage nor promote efficiencies and thus, have led to high utilization.  And the shift from institutionalization to home and community-based services (HCBS) has presented additional problems with community-, employment-, and financing-integration for this population.
In 2017, Medicaid spending for individuals with I/DD for HCBS services accounted for 70% of all spending and averaged over $44,000 per enrollee, greater than the spending for individuals with traumatic spinal or brain injury (Figures 6 and 10)[7].
While this system is prime for managed care programs, where care coordination and quality care have shown significant long-term Medicaid savings, individuals with I/DD are among the last groups to transition into managed care settings due to the complexity of their conditions.[8] Approximately half of I/DD individuals are enrolled in acute managed care; however, only around 30% of individuals have their HCBS services under any type of "managed care"[9]. Managed care models for vulnerable populations require adequate investment and thoughtful implementation and not all state managed care plans are alike. States who have been through the process of planning and implementing managed care for the I/DD population have demonstrated many accomplishments, challenges, and unknowns, alike.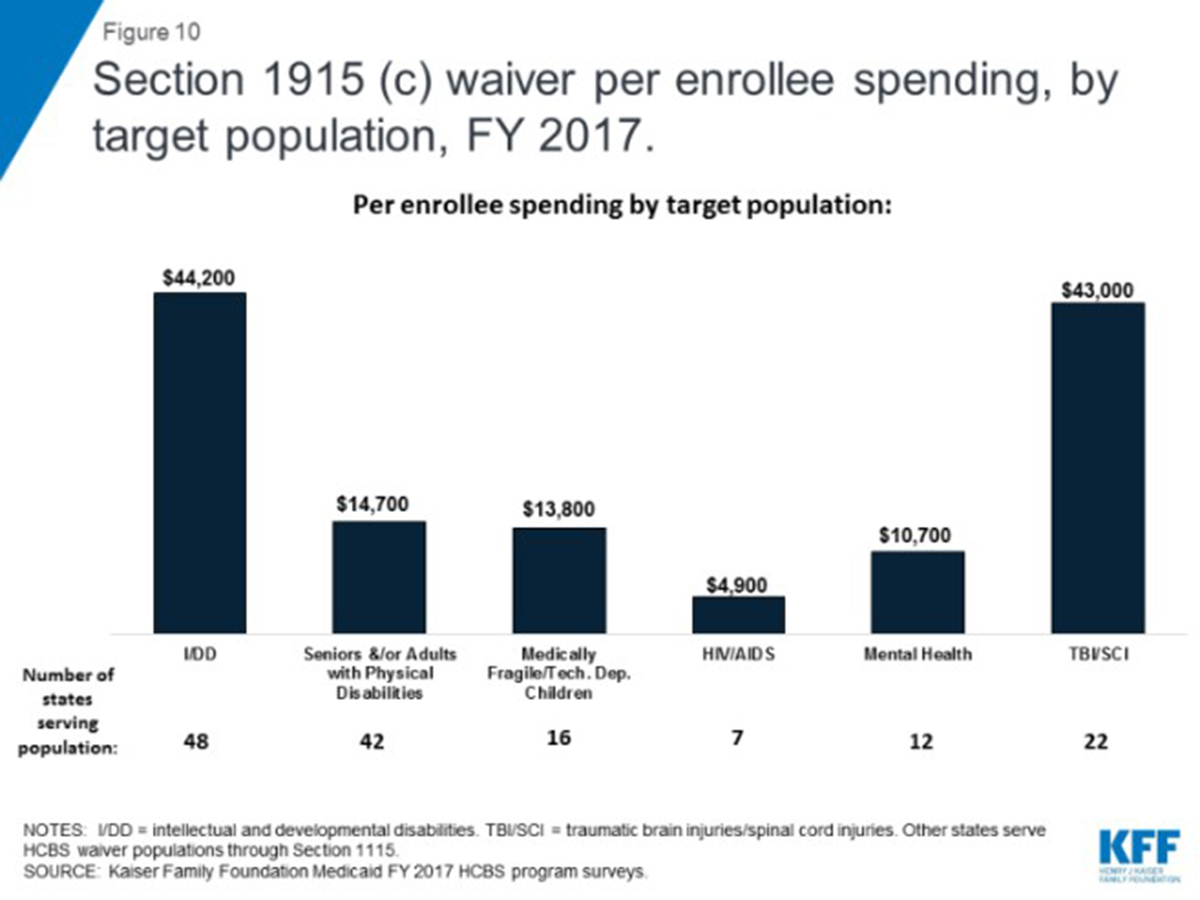 Managed Care Models Across The US
Over 20 states have planned or have implemented managed care programs for long-term services (LTSS) and I/DD. Models range from multi-state commercial health plan contracts to local provider-led initiatives and have varying benefits, requirements, and payment methodologies. What is evident, considering the challenges presented to each state, is the fact that managed care is not going away anytime soon.
As almost half of the country has implemented these programs, it is interesting to see the differences in how they have structured and implemented managed care. States have implemented models ranging from mandatory enrollment of all populations with large, private, multi-state MCOs to I/DD-specific focused programs and provider-led initiatives. The range of models can be seen through the lense of the following seven states who have implemented/planning to implement models for the I/DD population: Arizona, Kansas, Iowa, Tennessee, North Carolina, New York, and Arkansas.
Summary of State Approaches to Managed Care for I/DD Population:
Arizona – State Agency Management
Since 1988, Arizona Health Care Cost Containment System (AHCCCS), Arizona's Medicaid agency, has covered acute care, I/DD and LTSS, and behavioral health for older adults through the Arizona Long Term Care System (ALTCS) program[10]. Enrollment in managed care is mandatory for the IDD/LTSS population. The ALTCS delegates the management of care to the AZ Division of Developmental Disabilities (DDD). This means that service delivery is provided through state agencies and providers are interfacing with the DDD instead of large MCOs.
As Arizona is one of the longest operating managed care systems, it has been studied and modified over its 30-year existence. Through this demonstration they have shown increased efficiencies and improved outcomes and have been a catalyst for managed care across the country. For this reason, it is important to note the reimbursement and payment model that they practice and how it is changing in the near future Currently, Arizona has set value-based alternative payment models (APM) targets for each MCO in operation at 50% for acute care MCOs, 35% for LTSS MCOs, and 25% for its seriously mentally ill (SMI) integrated population. The state plans to require use of more advanced APM strategies with targets of 40% for acute care MCOs, 25% for MLTSS, and 10% for SMI plans in FY 2019.
Iowa & Kansas – Traditional Multi-State MCO
Kansas and Iowa are the two states that have placed their entire I/DD service system under managed care through private Medicaid-management companies.
Kansas
In Kansas, I/DD was transitioned into the KanCare managed care system in 2014. Like many states, the program goals focused on improved health care access, decreased waiting lists, improved employment outcomes, and cost savings. However, early adopters of KanCare reported service cuts and significant concerns with implementation and outcomes related to employment improvement and waiting lists have not been achieved. A 2018 report by independent auditors found that "the state's data is so bad, there is no way to know" if the program is working[11].  In 2018, Centers for Medicare & Medicaid Services (CMS) approved a request from Kansas to modify and extend the KanCare demonstration, known as KanCare 2.0, through December 31, 2023[12].
Iowa
In 2016, Iowa made a quick shift to private managed care, implementing IA Health Link and placing the care of nearly 600,000 poor and disabled individuals in the care of three commercial multi-state MCOs. MCOs, providers, and consumers have all reported that the transition to managed care was rough. Shortly after the shift, six Iowans with disabilities filed a lawsuit against Gov. Kim Reynolds alleging that the state's chaotic shift deprived individuals the legal right to live safely outside of care facilities[13]. All MCOs reported significant losses through FY2017[14]. AmeriHealth Caritas decided to leave the market in late 2017 and both UnitedHealthcare and Amerigroup referred to the experience as "catastrophic" and "drastically underfunded"[15][16].
The program is continuing to cost the state: in FY2020, Iowa officials have agreed to pay an additional $386 million to private providers to supplement the care for the Medicaid program, including an $2.6M increase for ID provider rates [17]. Keep in mind that Iowa's total expenditure for health and human services for FY2020 is $1.94 billion.
Tennessee – Incremental Traditional Managed Care (MC)
The TennCare managed care demonstration began in 1994 and has included the entire Medicaid population. The state took an incremental approach to shift the service model for MLTSS and I/DD to managed care and extensive community-based services. In 2010, Tennessee focused on improving costs for the elderly and I/DD populations (MLTSS population) and included them in a managed care program called CHOICES. All MCOs are multi-state commercial MCOs and are at-risk for providing supports coordination (case management) for I/DD Medicaid population. Enrollment is broken into 6+ groups based on necessary supports and services. The state requires extensive support coordination training for providers to improve the quality of services provided.
CHOICES was recently expanded in 2016 to include Employment and Community First (ECF) CHOICES program that addresses waiting lists and encourages employment and community integration. This program is focused around care coordination, person-centered planning, and increasing service provision for individuals and families. This program marks a paradigm shift in service structure in I/DD – reducing the focus on residential care and prioritizing family supports, community integration, and employment.[18]
 North Carolina – Specialty Managed Care Plan
North Carolina is amongst a large-scale Medicaid transformation with two types of managed care products – standard plans and behavioral health and intellectual/developmental disability (BH I/DD) tailored plans[19] – launching over the next two years (2019-2021). In May 2019, North Carolina Department of Health and Human Services released its strategy for developing and implementing BH I/DD tailored plans to serve approximately 115,000 individuals with serious mental illnesses, I/DD, and traumatic brain injuries.[20]
As with most managed care plans focused on the I/DD population, intensive and integrated provider-based care management is at the heart of the NC plan design and will act under a federal health home state plan model. The plan design is also heavily focused around integrated, whole-person care and includes person and family-centered planning, community-based care management, and community inclusion. There is no restriction for accessing services for beneficiaries based on geography or where their care manager is employed.
BH and I/DD Tailored Plans will tentative launch in July 2021. Payment for tailored care management will be subject to set rates that are tiered by beneficiary acuity but will also be significantly higher than Standard Plan care management rates due to the nature of the population under care. BH I/DD Tailored Plans will be required to report measures that assess whole-person outcomes aligned with the Federal Health Home Quality Measures in addition to other measures set forth by the state.[21]
 Arkansas & New York – Provider-led Initiatives – Implement in 2019
Arkansas
Arkansas is currently implementing a new Medicaid managed care program called the Provider-Led Shared Savings Entities (PASSE) model[22]. It's designed to coordinate health care services for BH and I/DD beneficiaries through the development of a PASSE entity requiring at least 51% ownership by local health care providers. Local health care providers join the PASSE network and PASSE entity provides administrative functions[23].
PASSE program created through a combination of federal Medicaid waivers and paid for using the traditional Medicaid match rate. The program is being implemented in two phases – 1) PASSEs receive Medicaid funds for administrative services and physicians continue to be reimbursed FFS 2) PASSE receives a capped member monthly global payment to pay for all the Medicaid-covered services a beneficiary receives. PASSEs must meet quality metrics and may receive monetary incentives or penalties based on meeting these quality metrics.
New York [24]
New York enacted a new managed care plan for individuals receiving services through the Office for People with Developmental Disabilities (OPWDD) that began voluntary enrollment in 2019. Beginning in 2021, individuals will be required to choose a managed care organization to manage their supports.
The new specialized managed care plan authorizes provider-led managed care entities (SIP-PL) to provide specialized services and supports for people with developmental disabilities. These organizations are led by OPWDD-certified providers with a history of commitment to people with intellectual and developmental disabilities.
These SIP-PLs will be responsible for coordinating and delivering all services including long-term services and supports (LTSS), physical health care, behavioral health, and medication management. Care management will continue to be provided by care coordination organizations/health homes that were established in 2018 or by care managers employed directly by the SIP-PL with the state's approval[25]. All SIPs-PL will offer a capitated state plan benefit package consistent with Medicaid managed care benefits, as well as provide non-risk I/DD residential services and OPWDD HCBS Waiver services. 
Challenges & Recommendations For Managed Care In I/DD Population
As states continue to plan, implement, and improve managed care plans for the I/DD population they have identified several lessons that providers should be aware of if their own state is adopting managed care for this population.
Limited Experience Across Key Stakeholders – States should conduct a real pilot first and learn from the experiences of states/stakeholders who have been through the process
Need for Meaningful Quality Measures – A few states, including Florida, are testing quality measures developed by the Council on Quality and Leadership[26]
Role of I/DD Case Management & Support Coordination – The consumer comes first, and the implementation of person-centered and integrated care planning will become best practice across the industry with the move to managed care
Strong Advocacy Networks and Relationships – Providers need to advocate early and often with their legislators. Lobby, P.R. and grass roots awareness doesn't appear to be a core competency among providers.
Direct Staff Turnover – Providers must advocate on behalf of their staff to include initiatives that support enhanced wages and benefits of direct support staff in community service programs to improve the quality of services they provide and minimize staff turnover
Provider Preparation For Managed Care In I/DD
Many provider organizations are not ready for the organizational changes that will need to be in place to conduct business with MCOs. Providers should expect advanced service authorization procedures, contract requirements, performance and quality metrics, a higher level of technology sophistication, and different models of payment for value.
It is important for providers to do the following:
Understand what is happening across the US and what managed care models are being implemented and revised
Understand internal costs, invest in billing and finance efficiencies, and understand how value-based payment contracts work
Get involved – with state entities, managed care organizations, or other providers/provider groups
Access and utilize data – what does data mean for your organization and where can it enhance services
Understand health outcomes that MCOs are being evaluated for and how you can help advance their objectives
Evaluate your full business model and assess the compatibility with the managed care environment
Managed care will present many challenges, but also allow for new innovations, more advanced levels of integrated care, and cost savings. Providing care based on value will give providers the opportunity to get creative with resources and expenditures at the individual level.
[1] Sisko, et al. 2019. National Health Expenditure Projections, 2018–27: Economic And Demographic Trends Drive Spending And Enrollment Growth.
[2] Thach, N. and Wiener, J. 2018. An Overview of Long-Term Supports and Services and Medicaid: Final Report. RTI International.
[3] American Association on Intellectual & Developmental Disabilities. State of The States In Intellectual & Developmental Disabilities, 11th Edition, 2017.
[4] Braddock, D.L., Hemp, R.E., Tanis, E.S., Wu, J. & Haffer, L. (2017). The State of the States in Intellectual and Developmental Disabilities: 2017. Boulder, CO: University of Colorado, Coleman Institute for Cognitive Disabilities, Department of Psychiatry
[5] Gifford, K., et al. (2018). States Focus on Quality and Outcomes Amid Waiver Changes: Results from a 50-State Medicaid Budget Survey for State Fiscal Years 2018 and 2019.
[6] KFF Survey of Medicaid officials in 50 states and DC conducted by HMA, October 2018.
[7] Musumeci, M., Chidambaram, P., and Watts, M. (2019). Medicaid Home and Community-Based Services Enrollment and Spending.
[8] Optum. 2018. The Risks and Rewards of Medicaid Managed Care for Individuals with I/DD. 2018 RCPA Annual Conference.
[9] American Association On Intellectual & Developmental Disabilities. State of The States In Intellectual & Developmental Disabilities, 11th Edition, 2017.
[10] Centers for Medicare and Medicaid Services (CMS). (n.d.) Managed Care in Arizona.
[11] Marso, A. (2018, May 2018). Kansas' Medicaid data is so bad, analysts can't even tell if it's working. Tribune News Service.
[12] Letter from CMS to Jon Hamdorf, Medicaid Director. December 18, 2018.
[13] Leys, T. and Clayworth, J. (2017, Jun 13). Disabled Iowans, fed up with cuts under private Medicaid, sue Gov. Reynolds. Retrieved from: Des Moines Register
[14] Iowa Medicaid Enterprise. 2018. Managed Care Annual Performance Report (June 2016-July2017).
[15] Letter from Kimberly Folz, CEO United Healthcare Community Plan of Iowa to Mikki Stier, Iowa Medicaid Director. November 18, 2016.
[16] Letter from Cynthia McDonald, Plan President Amerigroup Iowa to Charles Palmer, Iowa DHS. November 10, 2016.
[17] Iowa Department of Human Services. (2019). IA Health Link: New Contract Summary. Retrieved from: https://dhs.iowa.gov/
[18] Health Management Associates. (2018). Current Landscape: Managed Long-Term Services and Supports for People with Intellectual and Developmental Disabilities. American Network of Community Options and Resources (ANCOR).
[19]  Behavioral Health I/DD Tailored Planes
[20] North Carolina Department of Health and Human Services. 2019. North Carolina's Management Strategy for Behavioral Health and Intellectual/developmental Disability Tailored Plans. Medicaid Managed Care Policy Paper.
[21] NCDHHS. May 2019. BH I/DD Tailored Care Management.
[22] Arkansas Advocates for Children and Families. 2018. Transforming Medicaid in Arkansas: An Early Look at the PASSE Program.
[24] Office for People with Developmental Disabilities. (n.d.) Managed Care
[25] OPEN MINDS. 2018, Dec. 16. New York to Implement Managed Care for People Receiving I/DD Services. https://www.openminds.com/
[26] The Council on Quality and Leadership. (2018). Building The Framework For IDD Quality Measurement